MOBILE POWER WASH
OF
NEW ENGLAND
"Exterior Surface
Cleaning Specialists"

RESIDENTIAL
COMMERCIAL
INDUSTIRAL
Licensed & Insured
Professional, dependable, responsive, knowledgeable.

Don Hassell
Head of Maintenance
King Philip High School
Dear Mike:

What a wonderful job you did! I was very impressed and have been singing your praises ever since. I have been highly recommending you to everyone I know. I will definitely be a repeat customer!

Thanks again
Chris Butler
P.O. Box 1511
Plainville, MA 02762
(508) 695-3151
(800) 847-3516



© Mobile Power Wash of New England - All rights reserved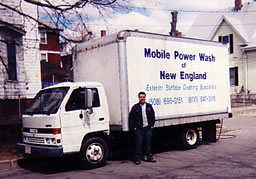 What our customers say about our service:

Thank you for always being prompt and sending out quick quotes and pricing. I like the fact that within a day or two after I call you send me a quote with instructions and bookings. I have what I need to proceed with cleaning. Your response is tremendous.

Mobile Power Wash of New England has cleaned numerous properties for Lorell Management. I wouldn't even open the yellow pages and look for another company. We have worked with Mike for years and continue to be impressed with the quality of his workmanship. My family members and I even call him for work at our homes.

Jen Morrison
Lorell Management


Mayfair Realty has 52 eight unit buildings that we clean on a repetitive basis. Every spring Mobile Power Wash of New England crews clean our multiple pools and decks. They do the initial preparation work for our painters. They have cleaned our interior warehouses, vinyl sided buildings, and restored many green and slimy decks. Mobile Power of New England has also cleaned many of our exterior shopping centers.

Their quality of work is unsurpassed. We wouldn't think of using anyone else.

Richard Feeley
Vice President of Operations
Mayfair Realty

I have had a working relationship with Mike and Mobile Power Wash of New England for over a decade. Using them to do the power washing allows our painting company to focus on what it is we do - the painting. They are professional and dependable. When I call him for an estimate I always get a call back promptly.

We utilize Mobile Power Wash of New England for our larger, more complicated projects like multiple building complexes and multi-story buildings.

I would highly recommend their services.

Stan
Boro Painting

To whom it may concern,

We recently had our home power washed as a prep for painting. The results were simply amazing!

My fiancee and I could not believe how much dirt and "wear" was erased from the shingles of the house. In fact, we almost decided to forgo painting and allow the shingles to stay in their natural unfinished state.

Having owned several home, and used several contractors for a variety of tasks, I can say without question that the quality of the work done by your company is the only time I have written the check with 100% satisfaction in my mind!

Congratulations on a job well done, and thank you for delivering as promised, exceeding our expectations greatly! We would recommend your company's service to anyone who asked or was willing to listen.

Satisfied,

Mike Hoff
Homeowner

Here at Community Builders we encounter a lot of graffiti being in the heart of Boston. Michael has removed graffiti, treated, and applied protective graffiti barriers at many of our locations. We also use him for gum removal, building cleaning and so on. Mobile Power Wash of New England has exceeded our expectations. Would highly recommend them to other property managers.

George Brooks
Building Superintendent

Dear Mike and Nancy:

I just wanted to let you know how thrilled we are with the job you did on our house. We thought we were going to have to repaint the house and now we don't

I cannot believe the difference!

Thank again and please feel free to use us as a reference!

Sincerely,
Sue Pellerin

Mobile Power wash of New England travels onsite and cleans a variety of vehicles. Backhoes, bobcats, dump trucks, flat beds etc. It's not a pretty site, but someone's got to do it. And they do it well. Couldn't be happier. Mobile Power Wash of New England is professional, accommodating and dependable. They also clean my townhouses and other properties as well.

Good job Mike and Nancy

Tim Caponigro
Woodlark Development

Dear Mobile Power Wash of New England,

We just wanted to thank you for the excellent job you did on our house. I left for work leaving a dirty dingy house, and returned to find a brand new house in it's place! It looks terrific!

Thank you
Sincerely,
Jane Burdick

Dear Mike:

Just want to let you know it was great doing business with you. You were very professional in all your work and you did what you said you would do. I will highly recommend you in the future. Thank you again

Superior Sandblasting and Painting Company

Mike,

Thanks for doing such a GREAT JOB ON MY HOUSE!!! I could hardly believe my eyes

The travel trailer looks almost new (maybe we will keep it)!

I especially appreciate the back porch looking so nice and the steps and foundation look brand spanking new. Have a safe summer

Bill Armstrong

Mike,

You did a great job! My house looks brand new after you washed it. I'm very satisfied and very impressed with your professional manner and quality of your service.

I'll see you again when the mold comes back.
Dear Mike:

What a wonderful job you did! I was very impressed and have been singing your praises ever since. I have been highly recommending you to everyone I know. I will definitely be a repeat customer!

Thanks again

Chris Butler

Mike,

Lynn and I would like to express our appreciation for the excellent job your company performed on our house last week. When you provided us an estimate in May, you described in detail what our home needed, and explained how the power washing job would be performed, plus, explained to us we didn't have to pay until we were satisfied. More companies should adopt your policy. Your workers were thorough - all the mold is gone as you promised - and courteous to my family while at our home.

I have not experienced the work of those other companies that offer low budget, low pressure washing. Lynn and I are very happy to say we both would recommend your full service power washing company.

Thanks Bob and Lynn Fogg

PS Your workers will remember us by the house with the 'killer bees'


Home