MOBILE POWER WASH
OF
NEW ENGLAND
"Exterior Surface
Cleaning Specialists"

RESIDENTIAL
COMMERCIAL
INDUSTIRAL
Licensed & Insured

Mayfair Realty has 52 eight unit buildings that we clean on a repetitive basis. Every spring Mobile Power Wash of New England crews clean our multiple pools and decks. They do the initial preparation work for our painters. They have cleaned our interior warehouses, vinyl sided buildings, and restored many green and slimy decks. Mobile Power of New England has also cleaned many of our exterior shopping centers.

Their quality of work is unsurpassed. We wouldn't think of using anyone else.

Richard Feeley
Vice President of Operations
Mayfair Realty

I have had a working relationship with Mike and Mobile Power Wash of New England for over a decade. Professional and dependable. I always get a call back promptly.

Using Mobile Power Wash of New England to do the power washing allows our painting company to focus on what it is we do- the painting. We utilize Mike for the larger complicated projects, such as multi building complex's and multi story buildings.

I would highly recommend their services.

Stan
Boro Painting
P.O. Box 1511
Plainville, MA 02762
(508) 695-3151
(800) 847-3516



© Mobile Power Wash of New England - All rights reserved
The appearance of your business leaves a lasting impression...
The cleanliness of your work environment plays an important role in the business image perceived by your customers.
A clean attractive, well-kept building positively affects the attitudes of the general public as well as customers.
Many business owners and property managers maintain the attractiveness of their locations utilizing our services to perform periodic cleaning of sidewalks, storefronts, awnings, and building facades. Dirt, gum deposits, graffiti, beverage and cigarette stains are quickly removed utilizing very hot pressurized water and detergents as required. Bus stops, employee break and sitting areas, and any high pedestrian traffic area tend to be a good candidate for these scheduled cleaning services. In addition to these, many surfaces on buildings may require aesthetic cleaning throughout the year to remove accumulations of mold, mildew, dirt, soot and stains. These surfaces include: vinyl, aluminum, dryvit , painted/solid stained surfaces, signage, window frames, and brick.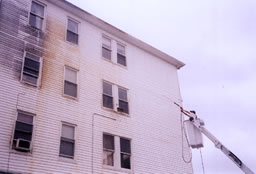 Mobile Power Wash of New England accomplishes these tasks by dispatching self-contained mobile wash units staffed with fully trained crews. These experienced technicians utilize mild cleaners, in conjunction with specially designed pressure cleaning equipment, to offer the most efficient, cost effective approach to exterior surface cleaning. Not only does cleaning your building and adjacent areas improve their appearance, but it also cleans away erosive deposits which may cause costly structural damage.
When possible, cleanings are scheduled for appropriate times to reduce the likelihood of interfering with your business operations. To this end we operate 24 hours a day/7 days a week, weather permitting. We offer free estimates, evaluations and onsite demonstrations upon request. Let us design a cleaning program to fit your needs. We welcome your questions and comments!
MOBILE POWER WASH OF NEW ENGLAND CAN CLEAN:
All TYPES OF SIDINGS, INCLUDING DRYVIT
BUILDING EXTERIORS
WALKWAYS & ENTRANCES
STORE FRONTS
DECKS
DUMPSTER AREAS
DRIVE THRUS
SIGNS
FENCES
AWNINGS
PARKING GARAGES
ROOFS
BUSINESS VEHICLES
TRASH CHUTES
SURFACES PRIOR TO PAINTING
EQUIPMENT
SWIMMING POOLS
WALK IN COOLERS
REFRIGERATION COILS
SHOPPING CARTS
DUMPSTERS & COMPACTORS
WAREHOUSE INTERIORS
LOADING DOCKS
WINDOWS
AND MUCH MORE
...to rid them of mold, mildew, dirt, soot, grease, graffiti, gum and rust stains

Typical location types include:

Plazas & Strip Malls
Retail Stores
Restaurants

Hotels/Motels
Schools/Colleges
Office Buildings

Factories
Warehouses
Construction sites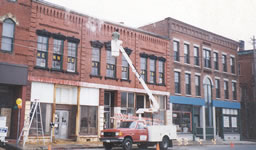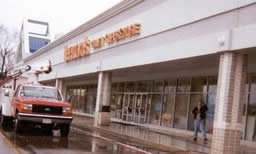 Home