MOBILE POWER WASH
OF
NEW ENGLAND
"Exterior Surface
Cleaning Specialists"

RESIDENTIAL
COMMERCIAL
INDUSTIRAL
Licensed & Insured
GOT MILDEW ?
WE REMOVE IT !
P.O. Box 1511
Plainville, MA 02762
(508) 695-3151
(800) 847-3516



© Mobile Power Wash of New England - All rights reserved
Painted or Solid Stained Siding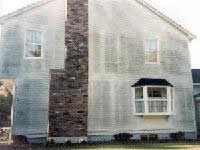 Why repaint if it's just dirty?
Mobile Power Wash of New England employs a propriatory LOW PRESSURE power washing system which allows us to clean painted and solid color stain homes— removing mildew, dirt and grime WITHOUT creating the need for repainting.
This process not only improves the appearance of the home but actually saves homeowners money by extending the repainting cycle.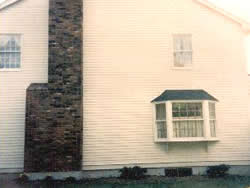 The old train of thought dictated when the home started to "look bad" it needed repainting. This, many times, was nothing more than a "slight mildew problem", which could be cleaned. Mobile Power Wash of New England's trained staff will carefully inspect the condition of your siding prior to cleaning to insure you get fantastic results without being forced to repaint. Special care is taken to insure siding is thoroughly cleaned without damage by utilizing a LOW PRESSURE cleaning process. Balancing the proper cleaners, water temperature and pressure level enables our cleaning technicians to restore the beauty of your home's exterior-without blowing off all the paint!

Dear Mike and Nancy:

I just wanted to let you know how thrilled we are with the job you did on our house. We thought we were going to have to repaint the house and now we don't

I cannot believe the difference!

Thank again and please feel free to use us as a reference!

Sincerely,
Sue Pellerin
More information to help you decide what's best
- repainting or power washing:

Home