MOBILE POWER WASH
OF
NEW ENGLAND
"Exterior Surface
Cleaning Specialists"

RESIDENTIAL
COMMERCIAL
INDUSTIRAL
Licensed & Insured
MOBILE HOME DIRTY ?

LET US MAKE YOU A HAPPY CAMPER !
P.O. Box 1511
Plainville, MA 02762
(508) 695-3151
(800) 847-3516



© Mobile Power Wash of New England - All rights reserved
Mobile Homes
Owners of mobile homes, travel trailers, or manufactured housing typically expect fewer maintenance headaches than those associated with conventional housing. And while these homes normally do offer reduced maintenance headaches - they still get dirty. Homeowners, many at retirement age, may be forced to manually clean the exterior of their dwelling.
Scrubbing a 70ft by 24ft mobile home is a big task!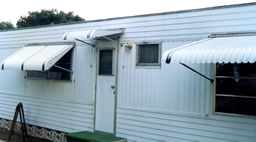 Mobile Power Wash of New England offers homeowners the fastest, most modern, method available to clean the exterior of their Mobile Homes, Travel Trailers or Manufactured Housing. Our cleaning system allows us to remove mildew, dirt and grime from your home, shed, patios, screen rooms, skirting, awnings and carports - thus restoring the original beauty.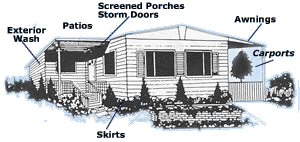 Additional information:

Mike,

Thanks for doing such a GREAT JOB ON MY HOUSE!!! I could hardly believe my eyes

The travel trailer looks almost new (maybe we will keep it)!

I especially appreciate the back porch looking so nice and the steps and foundation look brand spanking new. Have a safe summer

Bill Armstrong

Home