MOBILE POWER WASH
OF
NEW ENGLAND
"Exterior Surface
Cleaning Specialists"

RESIDENTIAL
COMMERCIAL
INDUSTIRAL
Licensed & Insured
BEFORE YOU PAINT: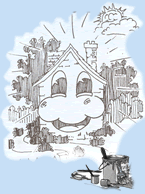 Remove mold, mildew & grime
Remove loose, flaky paint
Remove chalkiness for better paint adhesion
Clean adjacent areas like gutters and steps
Paint manufacturers recommend proper surface preparation prior to applying their products

To whom it may concern,

We recently had our home power washed as a prep for painting. The results were simply amazing!

My fiancee and I could not believe how much dirt and "wear" was erased from the shingles of the house. In fact-we almost decided to forgo painting and allow the shingles to stay their natural unfinished selves.

Having owned several HOMES, And used several contractors for a variety of tasks, I can say without question that the quality of the work as done by your company is the only time I have written the check with 100% satisfaction in my mind!

Congratulations on a job well done-and thank you for delivering as promised-exceeding our expectations greatly! We would recommend your company's service to anyone who asked or will listen.

Satisfied,

Mike Hoff
Homeowner
P.O. Box 1511
Plainville, MA 02762
(508) 695-3151
(800) 847-3516



© Mobile Power Wash of New England - All rights reserved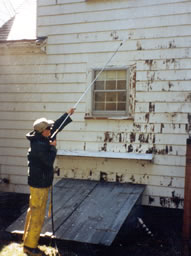 Preparing Surfaces for Repainting
PREPARATION IS THE KEY
Everybody has heard about power washing being an excellent "cleaning " option in terms of vinyl or aluminum siding, but did you know power washing is recommended by many leading paint manufacturers prior to repainting?
Both professionals and paint manufacturers agree that proper surface preparation is the key element to a long lasting quality paint job. Historically, the most difficult part of any repainting job was this "proper surface preparation"—the endless scraping, the cleaning, more scraping, etc.
Power washing prior to repainting removes the mold, mildew, dirt and chalkiness leaving the surface clean so the new paint will properly adhere. Mobile Power Wash of New England utilizes specially designed pressure washing tips used in conjunction with our custom designed pressure washing machinery. These tips rotate and spin the water and act like a disc sander-only much quicker! This process greatly reduces the amount of scraping time involved. However, you should still be prepared for some prep work. Just how much prep work will be left is based on factors like the condition of your surface, the effective age, type of products used and the number of prior coats on the surface. It is very important for the operator of the power washing equipment which utilizes a rotary tip to be both experienced and cautious. These tips are aggressive and in the hands of an inexperienced operator surface damage might occur. This surface damage will end up increasing your surface prep work rather than saving you time.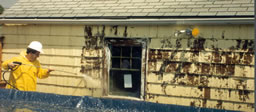 Painted surfaces need to be clean for paint to adhere properly. To insure your surface is cleaned as well as "paint prepped" Mobile Power Wash of New England, applies biodegradable cleaners followed by a complete rinse of all surfaces and surrounding grounds. We provide paint prepping services to numerous painting contractors and property owners alike. Our method is a proprietary system developed and refined from years of actual on the job use.

I have had a working relationship with Mike and Mobile Power Wash of New England for over a decade. Using them to do the power washing allows our painting company to focus on what it is we do - the painting. They are professional and dependable. When I call him for an estimate I always get a call back promptly.

We utilize Mobile Power Wash of New England for our larger, more complicated projects like multiple building complexes and multi-story buildings.

I would highly recommend their services.

Stan
Boro Painting
BENEFITS OF POWER WASHING PRIOR TO REPAINTING
Remove mold, mildew & grime
Remove loose, flaky paint, reduce scraping
Longer lasting better quality paint job
Removes chalkiness providing better paint adhesion
Cleans adjacent areas like gutters,
steps so they compliment your new paint job
Saves time
Reduces paintings biggest hassle-surface preparation
Paint manufacturers recommend proper surface preparation
prior to applying their products
IS MOBILE POWER WASH OF NEW ENGLAND YOUR BEST CHOICE?
Pressure washers can be purchased at numerous home centers or rented from many locations throughout the area. Many times these companies "oversimplify" the process of using a pressure washer to clean surfaces on your property. Our 20 year history has shown us there are a blend of many factors involved in properly cleaning a surface and potential dangers too. Knowing the proper combination of cleaners and dilution ratios, water temperature, water flow, water pressure, dwell time and distance from the surface can definitely affect the outcome of a cleaning job. Do you really want to experiment on one of your biggest assets. Potential surface damage or poor results will adversely affect the longevity of your "expensive paint job". Are you sure you completely killed all the mold and mildew on the surface? Do you want to risk an injury working off a ladder spraying pressurized water? Do you really save money by tying up a whole day of your time and add up all associated costs? If you do save a few dollars, what kind of job did you end up with? Know your true costs and guarantee the outcome by calling the professionals at Mobile Power Wash of New England today!

Numerous painting companies provide "pressure washing service" as a means to acquire their painting jobs. The thought of hiring a single contractor to handle the complete job may seem inviting, but further investigation is necessary to ensure you receive a quality job and the best bang for your buck. Some painting companies may do a suitable job of preparing your surface for repainting. However, this is normally not the case. Our experience has shown many painting companies only do the pressure washing to get the painting job. Painters normally dislike performing this service. Many paint contractors end up renting a portable pressure washing machine at the paint store and use what ever "cleaners" are available. Although many painters do try to perform this service well, they don't specialize in this service. The question is, can a painter afford to put forth the expense and effort necessary to have the best power washing equipment and expertise when it is a small fraction of their potential business? Will they be able to properly clean adjacent areas like your gutters, steps and walkways which left unclean will detract from the overall beauty of your new paint job? What happens when they fail to properly remove all the mold spores on your surface prior to repainting? Who knows — because their job is not done until they paint. Mobile Power Wash of New England's job is finished when the cleaning is completed. Any problems are quite apparent and easily noticed after a thorough inspection. This provides for a system of checks and balances enabling a property owner to reap maximum benefit from both services.
SOME OF THE MANY BENEFITS OF USING OUR SERVICES:
FAST RESPONSE
SUPERIOR EQUIPMENT
EXPERIENCED OPERATORS
BETTER RESULTS
MORE CLEANING OPTIONS
COMPETITIVE PRICES
GUARANTEED RESULTS
REMEMBER -– THE BETTER THE PREPARATION THE BETTER THE PAINT JOB!
Links with Answers to:

Home